A Division of VideoUniversity.com
Free Scriptwriting Resources:
Copyright And Register Your Screenplay Here
Informative article with the actual government copyright form and Writers Guild Registration form.
Writers' Research Page
The vast resources of the Internet are tamed and categorized for your story research needs.
100 Greatest American Films
chosen by an AFI poll. Then see
our eclectic list of films every filmmaker should know.
Send us your comments and suggestions for better or worse.
---
From the Hauntrepreneur, Vigilandia, and Pain and Gain are all upcoming movies
Michael Bay
and his latest installment of The Transformers is also in the works.
---
SCRIPT BITS:
Francis Ford Coppola's Amercan Zoetrope accepts spec scripts on their web site
Drew's Script-O-Rama features 600 famous scripts and unproduced screenplays.
How To Get An Agent
Writers Guild List of Agents
---
Cinematography Resources:
Steadicam Operator's Manual of Style
Hilarious look at the craft and business of the Steadicam Operator By Ted Churchill
Equipment Rentals and Sales
Find where to rent and buy camera equipment in both the States and International.
---
Best Film Schools
Complete descriptions, links and famous graduates.
---
The Art of Video and Film and Video Editing
New 9-Part Series includes film examples. It's not $199.00, $149.00, $79.00, $29.00. It's Free!
Start at Part 1 or jump around.
Don't have the time or money for film school?
Try this Interactive Film School
This cross platform interactive film school is on three CD-ROMs and is ideal for those who've always wanted to go to film school, but didn't. If you want to learn how to produce a feature film or dramatic short video. If you're serious about a career in film or want to make waves by producing a comercial feature in film or video, here's your chance.
FULL STORY (including NY Times Review)


Learn The Smart Way To Buy Insurance for Your Video Business

This in-depth article helps you understand how to save money and get the protection you need.
Makin' Money Until You Can Make The Feature
---
Produce and Sell Non-Fiction Videos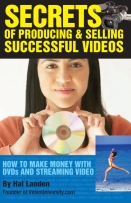 Who says non-fiction can't make money? Click to learn exactly how.
Did you know that some special interest videos sell for over $1000? That's right and there's no reason you couldn't produce and sell such a video or better yet a series of videos. Finding the right niche is part of the game and this book shows you all the ins and outs of that important part of the business.